JUST 3 SECONDS TO YOUR EASIEST WAVES EVER
OUR FIRST AUTOMATED CURL CREATOR
Quick. Easy. No stress, arm twisting or carpet singeing. The Wavemaker's automatic barrel and in–built cooling and setting system does the hard work for you, giving you effortless waves and movement for endless Great Hair days.
YOUR QUICKEST, EASIEST WAVES EVER
MAKES WAVES AT THE PRESS OF A BUTTON
Zero effort. No waiting. Simply let the automatic barrel envelop a section of your hair, hold for three seconds, and release for effortless waves and movement. The cooling fan system sets your waves in place so you get longer–lasting hold.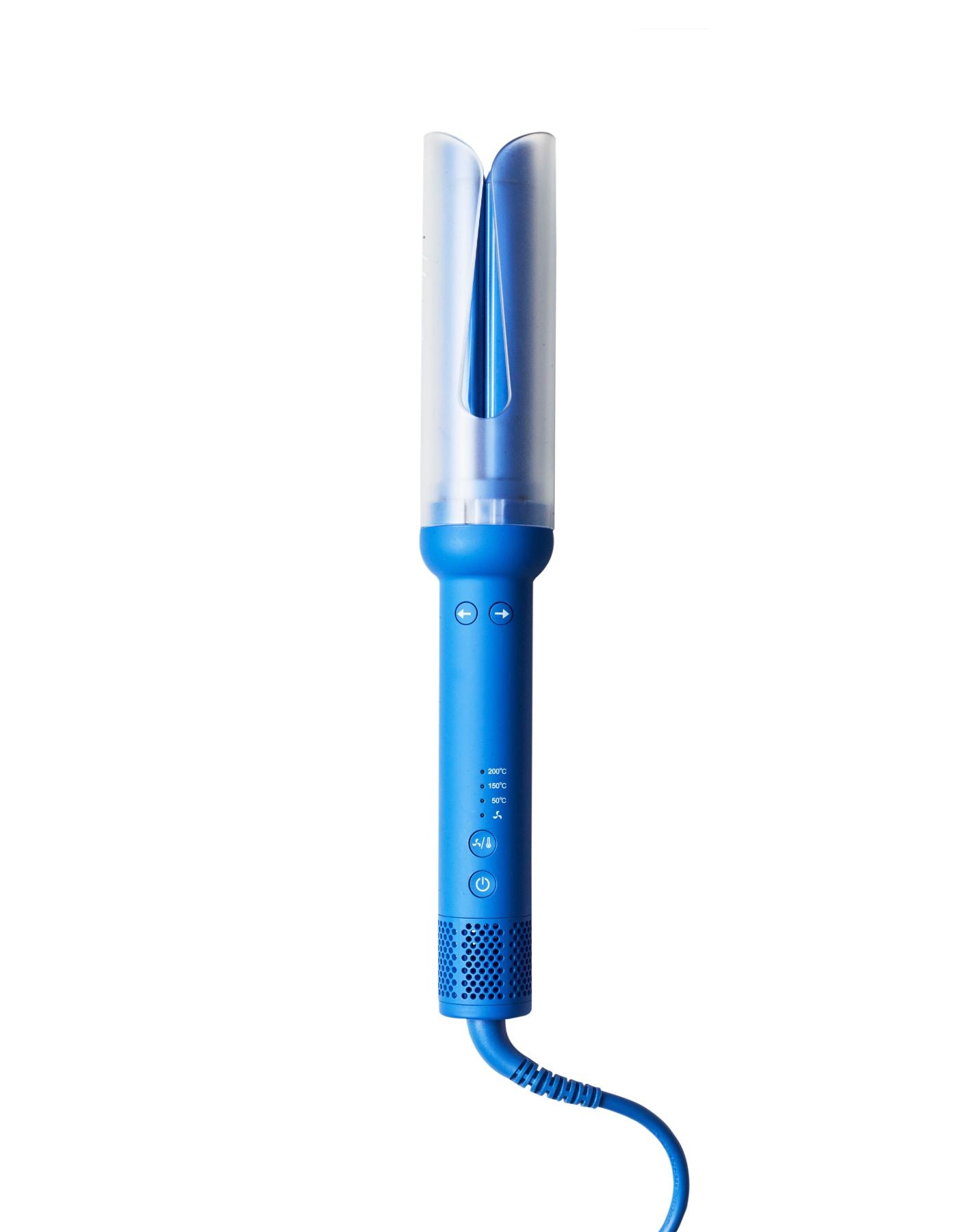 BENEFITS
⟶ Super lightweight for easy styling
⟶ Heats up instantly
⟶ Delivers automatic curls and waves
⟶ Waves in 3 seconds or less
⟶ Long–lasting waves thanks to the in–built cooling system
⟶ Works perfectly as part of your Great Hair routine
WHAT'S IN THE BOX
⟶ The Wavemaker
⟶ Neoprene heat–proof bag for storage and travel
THE TECHY BIT
⟶ Select from 50º, 150º or 200º heat settings depending on how defined you want your waves to be.
⟶ The fan will come on automatically.
⟶ Press and hold the fan/temperature button to turn the fan off.
⟶ Press the temperature button quickly to switch between heat settings.
⟶ Standard UK power plug (type G) and Dual Voltage
STEP 1
Once your hair is completely dry, press and hold the On button until the three lights blink.
When you first begin using the Wavemaker, we recommend starting on the lowest heat setting.
You can always build up to the other settings if your hair is very thick, or you want extra curl.
STEP 2
Take a small to medium sized section of hair and insert it into the barrel with the opening facing upwards.
Press one of the arrow buttons, so that the automatic barrel twirls your hair around it (we like our hair to curl away from our face).
Hold your hair in place for a maximum of 3 seconds while allowing the barrel to spin.
Then turn the barrel vertically to release your hair.
STEP 3
Let your hair cool for a few seconds before combing it through with your fingers to loosen the curls and create effortless tousle.
A smidgen of Almost Everything Cream will smooth and tame any frizz.
IT WORKS ON
⟶ Straight hair
⟶ Wavy hair
⟶ Fine hair
⟶ Thick hair
⟶ Long hair
⟶ Medium–length hair
⟶ Bobs
⟶ All Textures
---
100%
of reviewers would recommend this product to a friend
Really great
I'm usually really terrible with styling tools but this makes getting shape into my poker-straight hair easy and fun
Brilliant
Had made 'bad' hair days into 'good' hair days .. easy to use and transforms how I feel about my thick difficult to control hair
Wave
I am still learning to use this. A bit more difficult than I thought. Keep trying as after about 5 tries I can either have full hair or waves.